What is the Evolved Masculine?

The Evolved Masculine is an idea. A dream of one man and of many. It's a feeling. It's a way of being. It cannot be communicated fully in words. It must be experienced.  It must be felt.  It must be integrated.
But you want to understand. What is it? "I do so much work on myself, how can i be more 'Evolved'? " The real question to ask yourself is: "How do my habitual patterns keep me from experiencing the life I truly want to live?" Maybe you want a better sex life. A more rewarding/successful career. To feel like you were born for a reason. To leave a large impact on the world. You want deep, fulfilling, relationships. Maybe you want all of these simultaneously. Or… you have given up on one or more of them. Whichever the case, we are here to remind you:
They are within your grasp. Will you reach for them? You can rebuild you. You have the technology. Well… maybe you don't think that you do, but rest assured that we will bring it out of you. But only if you are ready. Join a group of men who are reaching as far and as fast as they can to create a better world for themselves and for those they love. Claim your power. Join your brothers. Walk The Path.

Are You a Man Who:
Is on an intentional path of personal/spiritual development.

Loves women and wants to love them better.

Is committed to making a big impact on the world.

Displays integrity in all aspects of life, including commitments and finances.

Loves being wrong because it points out your growth areas.

Plays full out (not a spectator).

Recognizes that you are a powerful creator in your words, deeds, and thoughts.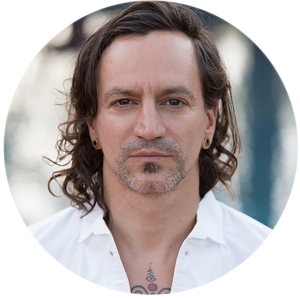 My name is Destin Gerek, I am the founder of the Evolved Masculine Path.I am a transformational empowerment coach who specializes in helping you awaken your masculine sexual energy, while harnessing this new found power to passionately manifest your biggest visions, and create the life of your dreams.
I have worked with multi-millionaires and struggling artists, CEOs and the unemployed, celebrity musicians, authors and actors, coaches and trainers, porn stars and yoga teachers, and regularly speak to and communicate with an audience that spans 6 continents.
I specialize in unlocking the potential in men. I draw forth qualities from my clients they might not see in themselves and open up new realities to men they didn't know were possible.
Many men come to me with shame, fear, anxieties, guilt and frustration. It's okay – wherever you are at is just fine. I have experienced all of these feelings in my journey While I've grown a lot, it was not a perfect path – I made many mistakes and faced many dark moments.
When I say "If I can do it, you can do it, too," it's not because I was born talented or everything came easily. It's because often I had to work very hard, make a lot of mistakes, and suffer doubts and anxieties along the way. And through that process I've learned how to make it easier for you to succeed. I don't expect you to be perfect, but open and willing to do what it takes to be exceptional.
We all come with our baggage, our stories – things our parents, peers or media told us. Many men struggle with the worry they are "not good enough" and either withdraw or put on a façade to hide their fear from the world. I have worked with many, many men with different but similar stories. The good news is, wherever you are at, you are not alone. And I can help you.

Claim your power
Join your brothers
Walk the path…
(Visited 3,492 times, 1 visits today)